COMPARISON OF SHUTTER MATERIALS
KORAD ACRYLIC CAP

is absolutely fade "proof".

ONLY

WEATHERBEST KORAD CAPPED SHUTTERS

will provide a LIFETIME WARRANTY AGAINST FADING…backed by over 40 years "proof".
ALL

Injection molded

shutters are made from polypropylene (except for paintable, which are made of High Impact Polystyrene, HIPS).
ALL

Polypropylene

shutters will fade gradually or quickly, depending on amount of costly additives…(be extremely cautious of "low cost" shutters).
"I've seen other shutters made of a heavier plastic and are cheaper???" You can buy shutters at the large home centers that are made of heavier plastics. They can be cheaper in cost because they are made of cheaper materials. They are usually made of polypropylene. The cheaper shutters are not laminated and have to build in extra bulk in order to provide structural integrity. Please read their warranty. They most often specifically say that they WILL NOT guarantee their shutters against fading or warping. Note: You may have to open the shutter package to find the disclaimer on fading and warping.
Because our shutters are constructed of two superior grades of plastic, WeatherBest Shutters do not need extra plastic to "bulk them up" in order to make them durable. Our shutters weigh less but will last longer than the heavier alternatives. Heavier does not necessarily mean better!
Our promise to you says it all: "...a lifetime warranty on fading, splitting, warping and cracking."
CREATING QUALITY THROUGH TECHNOLOGY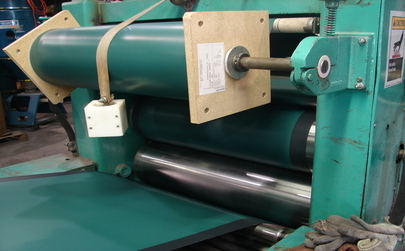 These pictures show our unique process that allows us to apply a highly specialized fade proof "barrier" of Korad Acrylic sheet.
This barrier is the exclusive key to making a shutter that is fade proof and age proof. Korad capped WeatherBest shutters will far exceed the life of your vinyl siding.
Unlike injection molding, our manufacturing process is a two-stage process. Making the highly specialized sheet in the first stage, and forming the shutter is the second stage.
It is only through this two-stage process that a special barrier layer can be applied. It cannot be done with an injection molding process for making shutters.
East Iowa Plastics is the only shutter manufacturer who uses fade proof Korad Acrylic, which allows us to offer the only fade proof shutter on the market.
Our fade proof and age proof shutters have been proven by over 40 years of continuous production….and we can still match new shutters with those that were made 40 years ago!