WeatherBest Window Awnings & Door Canopies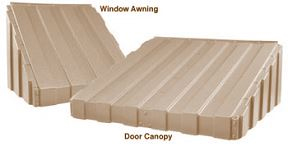 Homeowners can add beauty and lasting value to their homes with easy-to-install WeatherBest Window Awnings and Door Canopies. These quality products reduce cooling costs and protect home interior finishes from fading. They are made of tough ABS material with a tough KORAD cap for ease of maintenance and superior weather ability.
WeatherBest products resist dents, chips and rattles. The tough ABS material is three times stronger than similar aluminum products. Unlike canvas, WeatherBest Awnings resist rotting and tearing. They are easy to clean - simply rinse with a garden hose.
WeatherBest Awnings and Canopies are simple to assemble and can be installed in minutes. Detailed instructions are included with each unit.
Window Awnings are available in eight (8) sizes. Door Canopies are available in three (3) sizes. All units are available in two (2) colors to blend with house colors: Brown and White.
Take advantage of the opportunity to add value and beauty to your own home, or to introduce this practical and attractive product to customers in your market.
See the Size Selection Chart for available sizes and colors.
BENEFICIAL & ATTRACTIVE
Prevent interior fading
Reduce cooling costs
Lifetime warranty against exterior surface fading
Six-year replacement warranty

Maintenance Free
Pre-drilled & finished
WeatherBest Awning & Canopy Limited Lifetime Warranty
East Iowa Plastics, Inc. provides the industry's only Lifetime Warranty on exterior surface fading & a six-year warranty on tearing, breaking, cracking, denting or splitting. Simply return defective awnings or canopies to place of purchase with proof of purchase.
East Iowa Plastics, Inc. will not be held liable for any direct, indirect, incidental, special or consequential damages. The manufacturer assumes no responsibility for failure or damage due to improper installation. Our liability will not exceed the replacement of the defective awning or canopy itself. Installation costs will not be included.